Exploring the world is one of the best things you can do but have you ever thought of tasting wine while doing so? Then surely this article is for you. I hope all your travel experiences until now are great but those that take place with a glass in hand would be the best. If you still haven't checked out premium wine destinations in the world congratulations.
Consider all the locations that you have passed by till now and now let's reconsider it with a glass full of wine. I'm pretty sure you have not visualized anything of this sort yet. Am I right? 
In this article, we have compiled the best destinations that should be on your radar this year. whether you are able to visit one or all of 10 these wine destinations will blow your mind. 
1. Vienna Austria
A hub of music, art, and coffee culture Austria's capital boasts stunning baroque architecture. People visit Vienna due to a lot of many reasons but one of the most underrated reasons to visit here is the significant quality of wine that is produced here. It is one of the lesser known and inciting reasons to come here.
About 1700 acres of vineyards are planted within the city limits out of which 85% are dedicated to White varieties. It includes Riesling, Sauvignon Blane, and Gruner Veltliner. Autumn is the best season to visit Vienna and experience the fragrant vineyards. Every year the city hosts its annual wine hiking day.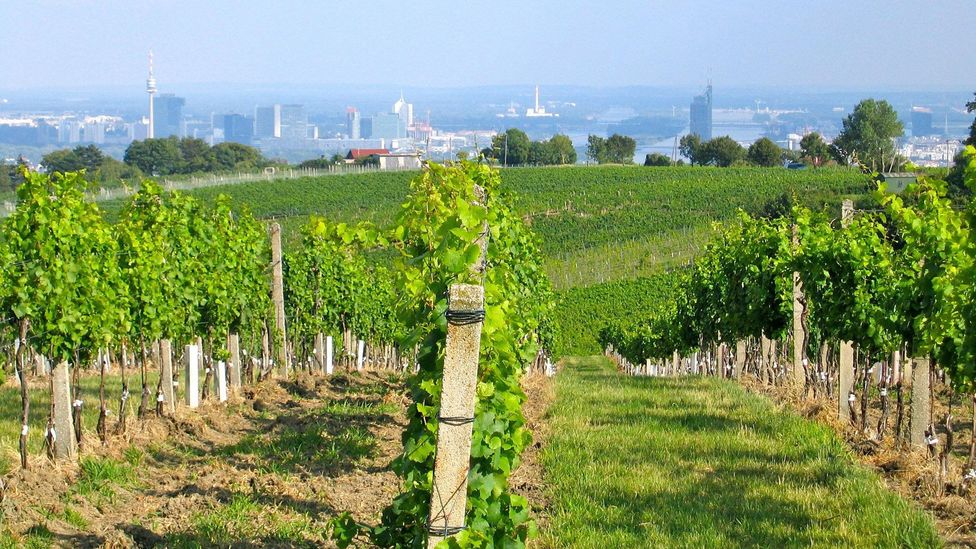 2. Languedoc-Roussilon France
Jazz a Hospitalet, an annual festival organized by renowned winemaker Gerard Bertrand is a treat for music-loving wine enthusiasts. The event takes place during summer and continues for 5 days. Bertrand state is located just outside the town of Narbonne which lies inside the Corbieres AOC. 
A dozen of wineries that focus on organic and biodynamic viticulture is located in this region. A 10-minute drive from the Mediterranean sea is Narbonne. 
3. Campania, Italy
Italy being the fifth most visited Nation on the planet receives more than 60 million tourists every year.  It may sound weird but still, there are some points or undiscovered regions that don't get enough recognition as they deserve, Campania is one of them. This region specializes in making wine using indigenous local varieties such as red grapes Aglianico and white grapes Greco, Fiano, and Falanghina. 
4. Porto, Portugal
World of wine is a privately ambitious tourist project that will offer five Museum experiences a wine School, nine restaurants, bars, and multiple exhibition spaces all within Fladgate's former port warehouses in the city of Porto. This project is going to highlight Portugal's importance not just as a historical winemaking nation but as a world leader in cork production. 
You can reach Porto by boat, train, or car and experience the vineyards while staying in the City.
5. Cape Winelands, South Africa
First Sparkling wine lovers Cape Winelands is one of the best places to visit. Earlier it was difficult to reach this place but now with direct flights offered from New York to Cape Town, it is easier than ever to access South Africa's Cape Winelands. It's a 45 minutes distance between Cape Town to Wine Country.
Here you can find stunning menus at a winery restaurant and culinary option ranges from roadside farm stalls.
6. Tenerife, Spain
Currently undergoing an exciting winemaking Renaissance Tenerife is located in Spain and offers the most compelling wines in the world.  the largest of the 7 Canary islands Tenerife split into North and South territories by the dominating volcanic Mount Tiede. This place offers a well-established wine route with the majority of wineries located in the northeast of the island. 
In addition to this, Tiede offers numerous other activities such as hiking trails and serves as the winter training camp for many of the world's top professional cyclists. 
7. Uco Valley, Argentina
Located in Argentina's Mendoza province Uco Valley is a high-altitude sub-region that offers breathtaking views of the Andes mountain and some of the finest wine tasting experiences in South America. This famous wine reaches the international market but if you visit this region then you can experience a unique opportunity to taste single Vineyard bot links and boutique projects that are not produced in large enough quantities to export.
8. Piedmont, Virginia
Piedmont is a hilly region in Virginia that has established itself as a convenient and attractive destination for American wine tourism. It's a few kilometer's drive southwest of Washington DC. this region is home to the Monticello wine trail. This place offers Vineyard tools tasting rooms and award-winning restaurants for you to visit. In total there are 35 wineries that make up the trail. 
9. Valle de Guadalupe, Mexico
Located 75 miles south of the US border Mexico's Valle De Guadalupe is closer to Los Angeles. This region is gathering International attention for the world-class bottles produced by its hundred-plus wineries. 
The high-quality winemaking is matched by farm-to-table dining and multi-course tasting menus from acclaimed Chefs such as Drew Deckman, Diego Hernandez, and Javier Plascencia.
10. Paso Robles, California
Located on California's Central coast Midway between San Francisco and Los Angeles Paso robles is a charming city. This place offers stunning vineyards but still flies under the radar from a national and international perspective.
Paso is home to award-winning wineries set in a spectacular backdrop that Rivals anywhere else in the state. The city has a historical Downtown with a wide range of dining establishments that dedicate themselves to serving locally sold organic produce and meats.