The Peak District is one of the largest and most visited national parks in the United Kingdom. There's so much to explore!
Spanning 893 km (555 miles), the Peak District became the first national park in England and Wales in 1951. It is a striking, upland area – much of it being above 950 ft (300 m) – climbing, caving, and hiking are popular with tourists.
The Peak District is largely located in Derbyshire. The national park reaches across parts of Cheshire, Greater Manchester, Staffordshire, and South Yorkshire.
Here are the ten best hikes in the Peak District, ranked.
10. Bakewell to Chatsworth – pass by a stately home
You can opt for a 9.7 km walk (6 miles) or a 12.9 km walk (8 miles), taking you over the Monsal Trail. Covering woodland, the charming village of Edensor and ending at Derbyshire stately home, Chatsworth House, this walk packs plenty in.
The longer route will take you along the River Derwent coming back from Chatsworth. Landmarks include an old corn mill and an Iron Age fort.
Address: Bakewell DE45 1GE
9. Dovedale via Hall Dale and Ilam – a riverside ramble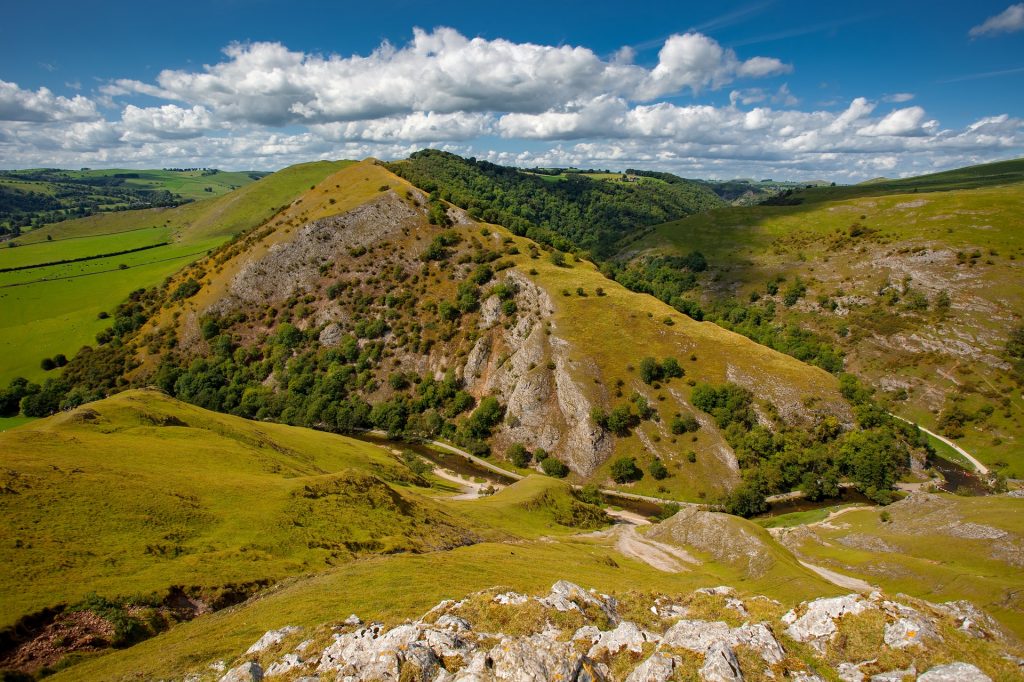 This 12.9 km (6 miles) walk takes in magnificent views on the Derbyshire and Staffordshire border. There's quite an adventurous element to this walk.
Crossing stepping stones and shady paths alongside the River Dove, you will walk past limestone crags, over grassy Hall Dale, and through the village of Ilam to end back at the starting point in Dovedale.
Address: Ilam, Ashbourne DE6 2AZ
8. Wyming Brook – a short stroll
A short and sweet 2.7 km (1.7 miles) walk, the Wyming Brook area was once a private hunting forest for the local nobility.
Nowadays, The Wildlife Trust for Sheffield and Rotherdam protect the area's wide range of wildlife. You'll likely come upon crossbills, dippers, redstarts, pied flycatchers, wood warblers, and various kinds of moths.
The walk is circular, following the peaceful Wyming Brook through a wooded ravine over mossy rocks. The path includes several wooden footbridges.
Address: Sheffield S10 4QX
7. Robin Hood's Stride – a great family walk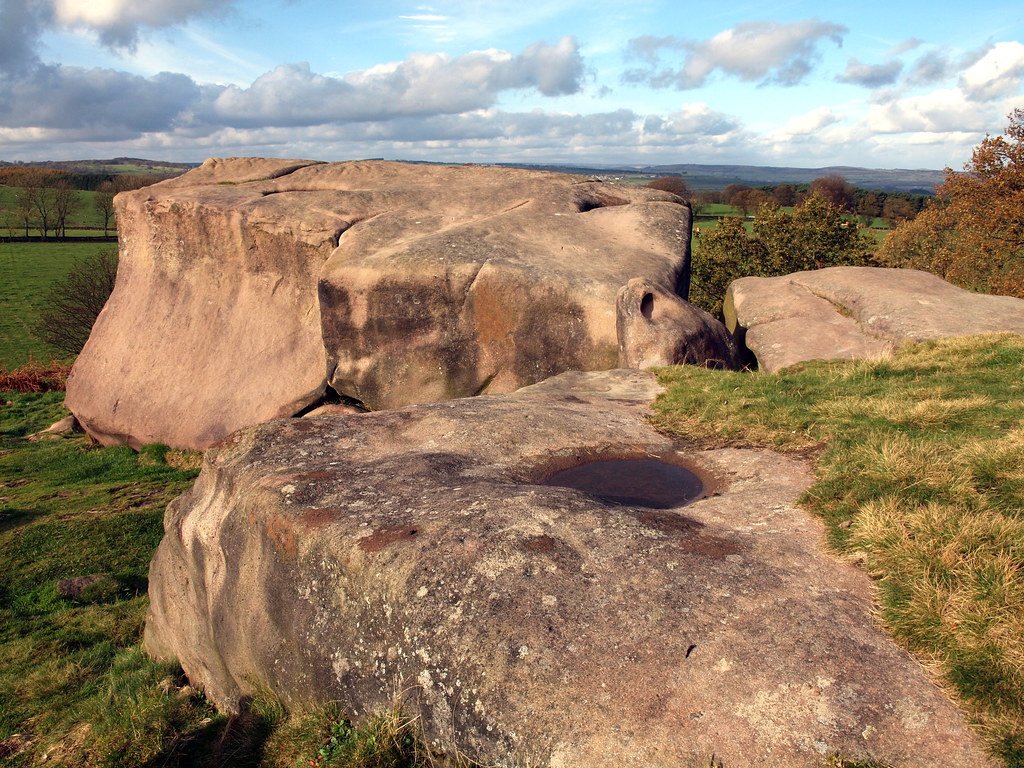 Robin Hood's Stride is a 4.3 km (2.7 miles) walk, making it an ideal length for a family walk. With trees and huge rocks to climb, a rope swing, and a hermit's cave to explore, this circular walk is perfect for children.
Children and adults will be rewarded with breathtaking views at the top. The walk starts and ends in the village of Elton, in Derbyshire. A must on your UK bucket list.
Address: Bakewell DE45 1LL
6. Minninglow via High Peak Trail – one for history fans
The 4.8 km (3 miles) circular Minninglow walk will take you along the High Peak Trail in Derbyshire to the top of Minninglow Hill, the site of Neolithic tombs.
This ancient burial point dates from around 3,000 BC. You can still view the tombs, which are scattered around a circular mound that was created in the Bronze Age.
Address: High Peak Trail, Wirksworth, Matlock DE4 4LS
5. Kinder Scout – a full day hike
If you're looking for a challenge, try the Kinder Scout walk. This 27 km (17 miles) circular hike is one of the more difficult walks in the peak district. This hike takes between seven and nine hours.
Most walkers take an anti-clockwise route. You'll ascend towards a huge upland with dramatic, plunging views. Passing the Kinder Downfall (a waterfall), you can choose to journey across Grindsbrook Clough.
Address: High Peak S33 7ZJ
4. Saddleworth Moor – go north for one of the best hikes in the Peak District
The next on our list of the ten best hikes in the Peak District is Saddleworth Moor. The 12 km (7.5 miles) walk takes three to four hours.
The hike traces its way across the northern edges of the Peak District National Park, connecting the villages of Upperhill and Marsden.
You will cover the high moors between the Colne and Tame valleys. Landmarks en route include Standedge Tunnel, Redbrook Reservoir, and Saddleworth Viaduct.
Address: Oldham OL3 7NW
3. Padley Gorge – a woodland stroll
The 4 km (2.5 miles) walk along Padley Gorge is storybook picturesque. One of the most relaxing walks in the peak district, amble through a peaceful forest.
You'll pass the River Derwent, a cafe and an 18th-century hotel, bar, and restaurant!
Address: Padley Gorge Trail, Hope Valley S32 2HY
2. Hathersage and Stanage Edge – location of literary inspiration
This walk will take you through an enchanting valley and past North Lees Hall. The 16th-century manor is believed to have been Charlotte Bronte's inspiration for Mr Rochester's home in Jane Eyre.
In more recent times, Keira Knightley's "cliff scene" in Pride and Prejudice was filmed on Stanage Edge.
Address: Hope Valley S32 1DZ
1. Mam Tor – stand atop Shivering Mountain
We end our list of the top ten hikes in the Peak District with magnificent Mam Tor. A hill known as the 'Shivering Mountain', it is 1696 ft (517 m) high!
This walk is 14 km (9 miles) long. Close to Castleton village in Derbyshire, it has been described as England's best ridge walk. Plus, this is a very accessible walk; footpaths are stone surfaced.
You will be rewarded with some of the most dramatic views in the Peak District.
Address: Hope Valley S33 8WA