Bringing magic and wonder into hearts and homes across the globe, it comes as no surprise that Walt Disney decided to launch a family theme park in California, in 1955.
Today, there are six Disney resorts, including Disneyland Resort in California, Walt Disney World Resort in Florida, Tokyo Disney Resort, Disneyland Paris, Hong Kong Disneyland Resort, and Shanghai Disney Resort.
In this Disneyland guide we will take a closer look at each Disney resort and offer insight into what makes them unique and, most importantly, magical!
Disney resorts promise to be 'the happiest place on earth'.
Let's have a little look closer at the six locations in this ultimate Disneyland guide.
1. Hong Kong Disneyland Resort – for day visits
The Hong Kong Disneyland Resort first opened to visitors in 2005. It consists of a classic Disneyland Park, as well as three Disney hotels, dining options, and recreation areas.
At only 320 acres, it is Disney's smallest park. And, due to its intimate size and some eight million visitors a year (2019), the park can often become overcrowded with long wait times for rides.
The knock-on effect has seen a lack of return visitors and poor media coverage for the park in recent years.
On the bright side, its small size makes it perfect for a day visit, so if you go off-season you'll hit the jackpot in the Magic Kingdom!
Address: Lantau Island, Hong Kong
5. Shanghai Disney Resort – our Disneyland guide says it's a must visit
Opened in 2016, Shanghai Disney Resort is the newest resort on the global roster of Walt Disney theme parks. It's located in China.
Aside from its central Disneyland Park, there is also an entertainment district, two themed hotels, and tonnes of activities. The site – which is still under development – will cover a whopping 963 acres on completion.
What makes it different than others? First off, the Enchanted Storybook Castle stands at a whopping 197 feet making it the largest of all Disney castles.
A more slick and futuristic approach to design is another defining feature of this resort, too, with newly added thrill rides that will knock your socks off.
And, while it appropriately lends from the well-tested tactics of the first Disney parks, Shanghai Disney Resort offers enough originality and freshness to be a must-visit for sure!
Address: Pudong, Shanghai, China
4. Walt Disney World Resort, Florida – the ultimate Disney experience
Walt Disney World Resort in Florida was the second Disney resort to open in 1971.
Today, it is the largest Disney resort by landmass and the most visited theme park in the world.
There are four theme parks, two water parks, 21 resort hotels, eight golf courses, and endless shopping, dining, and entertainment venues.
Essentially, it is its variety and range that gives this Disney resort its edge – the opportunities are truly endless.
Whether you come for a minibreak or a longer vacation, Walt Disney World Resort is bound to keep you entertained from start to finish.
Address: Orlando, FL, United States
3. Disneyland Paris – for easy European accessibility
First opened in 1992, Disneyland Paris in France is the largest resort complex outside of the United States.
Much like the other Disney resorts, Disneyland Paris offers a similar line-up of hotels and attractions, parades, and memorable experiences.
However, what it is applauded for is its design. Guests and critics particularly praise the Disney castle which is widely regarded to be the prettiest of all resorts.
A significant benefit to this resort is also its accessibility. Not only is the park moments from Paris, but it is connected with the Eurostar, which transports guests from London to the Magic Kingdom in just hours!
Makes sure you find out when the best time to visit Disneyland Paris is before you go!
Address: Boulevard de Parc, 77700 Coupvray, France
2. Tokyo Disney Resort – for the ultimate immersive experience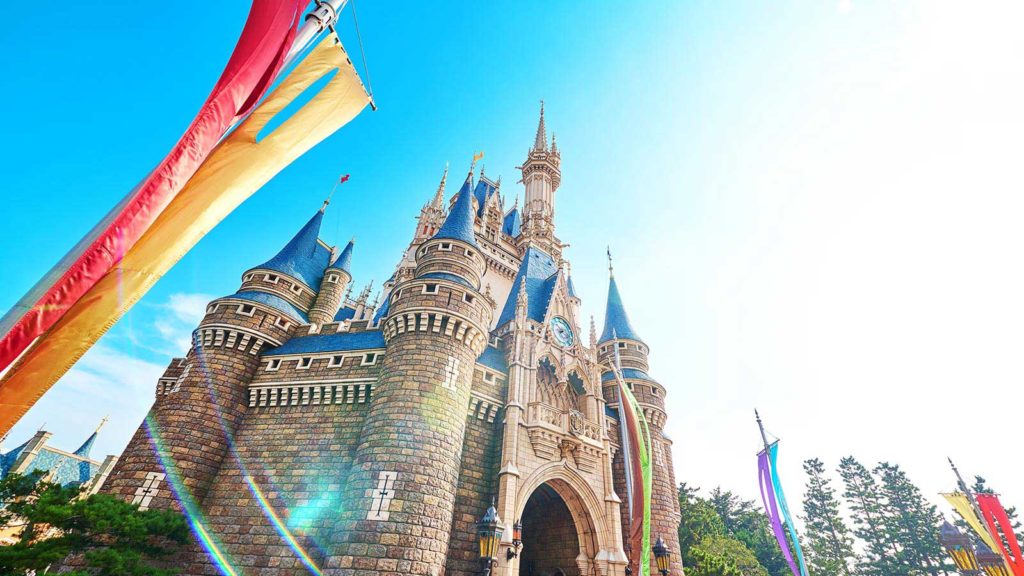 Tokyo Disney Resort opened in 1983 as the first Disney resort to be built outside of the United States.
Today, it comprises of two theme parks, four Disney hotels, a wealth of non-Disney hotels, activities, dining options, and a shopping complex.
Aside from the usual bells and whistles, Tokyo Disney Resort is known to be one of the best for numerous reasons. Set design and infrastructure are two elements which often get the seal of approval from global visitors.
While Disney parks are renowned for their ability to create impressive backdrops and settings, Tokyo Disney Resort takes home the gold. It has a genuine ability to transport guests all over the world with its elevated immersive experience.
Address: 1-1 Maihama, Urayasu, Chiba 279-0031, Japan
1. Disneyland Resort, California – the original
First opened in 1955, Disneyland Resort in California is the original Disney resort.
Spread over 500 acres, the site offers two theme parks, three Disney hotels, and tonnes of shopping and dining destinations. An easy day trip from L.A., this is the perfect spot to visit on a family vacation.
Other Disney parks may outrun the original Disneyland Resort when it comes to size or attractions. Yet, the California park offers so much more in terms of overall enjoyment.
The lines are shorter. The park's size is more walkable. The rides are just as good (albeit fewer). And most of all: it is the original place where Walt Disney conceptualised the all-American family theme park.
Disney's history thrives in the very fabric of its main street, its magical castle, its cast of Disney character, and classic rides.
Address: Disneyland Dr, Anaheim, CA 92802, United States
There you have it, hopefully our Disneyland guide will give you an idea of which Disney resort you should visit.
Also Checkout: Visiting Andaman Can Be A Thrilling Experience.