Whether you're looking for an unforgettable adventure or a moment more serene, these are the ten cultural celebrations everyone needs to experience.
There are many cultural celebrations everyone needs to experience, some are as old as the earth. They offer space and time for people, from all walks of life, to come together in kind.
Ranging from ancient holidays honouring cultural customs to extravagant celebrations of diversity and creativity, these are the ten cultural celebrations everyone needs to experience.
10. Yi Peng Lantern Festival (Chang Mai, Thailand) – for a sky like no other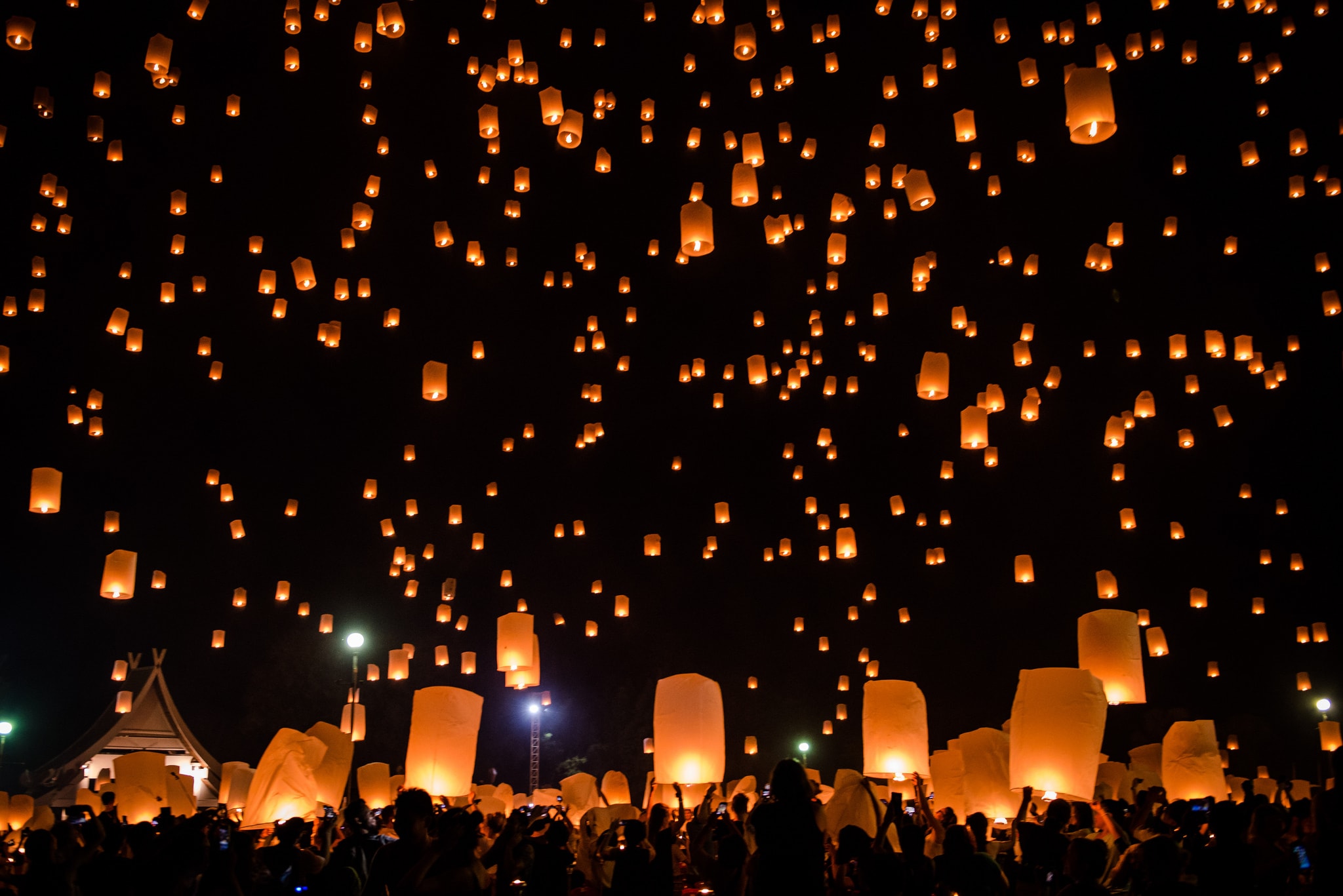 This "festival of lights" is celebrated when the full moon rises in the 12th month of the year (based on the Thai lunar calendar). This usually falls in October or November.
Marking the end of the wet season, this festival is known for its endless sky of candle-lit lanterns which float to the stars. A sight for sore eyes, without a doubt.
9. The Jaisalmer Desert Festival (India) – for ancient customs and traditions
The Sam Sand Dunes in the Thar Desert act as the stage for this three-day Indian festival.
Beginning in the days before the February full moon, this event offers traditional music, song, and dance performances in the most stunning setting. It is most certainly one of the cultural celebrations everyone needs to experience.
8. Harbin Ice Festival (Harbin, China) – for a winter wonderland
Each year, Harbin in China transforms into a winter wonderland. Offering scenes of a snow world fit for a fairytale, this festival is denoted by its impressive ice sculptures that dominate the landscape.
Each year there is a different theme, meaning this festival will never lose its wow factor. With over 18 million visitors each year, it is safe to say this is the largest snow and ice festival the world over.
7. Carnival of Venice (Venice, Italy) – for majestic Venetian masks
Celebrated for centuries, Carnevale in Italy is a majestic experience like no other.
Known for the epic Venetian masks which attendees don in unison, Carnevale in Venice usually lasts two weeks, ending on Shrove Tuesday.
6. Gay Pride Parade (San Francisco, USA) – for pride
The Gay Pride Parade in San Francisco is a cultural celebration everyone needs to experience.
If honouring love, diversity, acceptance, and equality sounds up your alley, there is no better pride parade than in San Francisco. Wave your colors high and proud; this will be an affair to remember.
5. Holi Festival of Color (India) – for a colorful experience
Holi is an ancient Hindu springtime festival which marks the end of winter and triumph of good over evil.
While this festival has been in motion for centuries, it remains ever popular 'til this day, drawing culture vultures from all over the world to take part. In celebration, attendees douse friends and strangers with colored powder.
4. Day of the Dead (Mexico) – for the spiritual souls
The Day of the Dead (or Día de los Muertos) is a Mexican festival that honors those who have passed.
On this day, it is believed spirits can come back to the land of the living. And, to mark this, majestic parades where technicolor skeletons frolic and play is a feast for the eyes.
3. Burning Man (Nevada, USA) – for the artistically inclined
Founded in June 1986, marking the summer solstice, Burning Man has gone on to become the pinnacle of modern-day cultural celebrations everyone needs to experience.
With humble beginnings, Burning Man today attracts up to 80,000 participants annually. Acting as a portal into an alternative universe, the Burning Man temporary city serves as the backdrop of arts, music, and cultural celebrations like no other.
2. Mardi Gras (New Orleans, USA) – one of the top cultural celebrations everyone needs to experience
Mardi Gras in New Orleans is an electric festival which takes place over two weeks before Shrove Tuesday. It marks, in the Christian calendar, the feast and celebrations to be had before Lent begins on Ash Wednesday.
Expect over the top costumes, street parties and parades. This one will not disappoint, so make sure to check it out if you're in New Orleans!
1. Carnival (Rio de Janeiro, Brazil) – for the parade
Carnival in Rio de Janeiro is another celebration that precedes Lent. Arguably the largest carnival celebration on the globe, Rio de Janeiro attracts some two million people each day during the festival, that goes on for five days in total.
Spectacular displays of color, costume, and carousing are bound to blow your mind at this festival that is, without a doubt, one of the cultural celebrations everyone needs to experience.
Also checkout: Top 10 best hikes in the Peak District you NEED to experience, RANKED