Well! If you are an adrenaline rush seeker, this article is your guide. We watch a lot of videos on social media showing people enjoying skydiving, paragliding, roller coaster rides, water splash rides, etc. Watching them itself is thrilling. These sports are mostly restricted for an age group taking into concern its dangers and precautions. Some may require dress codes whereas some may not. You don't need to worry about any mishaps as every ride is equipped with proper safety gear and belts. One ride is never enough. We crave more. Thus Delhi NCR being no less than other adventure sites like Goa, Rishikesh and Himachal offer you a wide range of adventure sports and rides leaving you to skip a heartbeat for sure.
1. Flyboy Air Safari
Ever wished you could fly like a bird in the sky? Maybe this dream of yours can be fulfilled through flyboy Air Safari. It's a motor machine attached to a parachute which flies in the sky giving you a beautiful bird view.
The person sits in the machine and a trainer accompanies you along with the flight. You can choose how far you want to go. This sport definitely gives you an experience of wings.
Location – Behind Westin Resort, Sohna, Gurgaon.
2. Mojoland adventure park
This place is a combo package of all the rides you would wish you could ride. One ticket opens your door to altogether 3 categories of rides- adventure sports, water rides, paragliding.
Normally school students are sited here enjoying their school picnic trips. This water park is not like others. It offers more variety of rides which is normally never satisfying but leaves us with a deadly craving for more.
Location – Murthal, Haryana
3. Paintball
Have you ever wondered how it felt like to hold a shooting gun in hand and target someone? Well! Paintball may be a colorful yet fun version of that. This sport is definitely a stress booster.
This involves attacking your fellow mates with color bombs. It's a fun-filled game if you're planning an outing with your gang. 
Location– Pacific Mall, Shubhash Nagar
4. F9-Go-Karting
It's one of the most popular sports in Delhi NCR. This one will surely satisfy your adrenaline rush. Riding on a fast kart racing along tracks with smooth curves with your friends is altogether the next level of fun.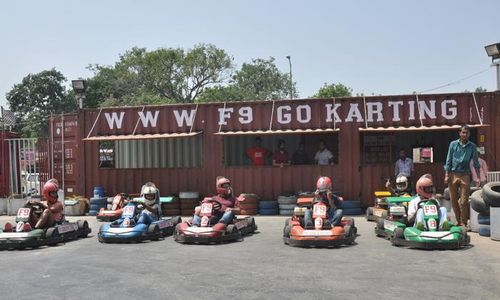 You can book this place for any occasion like birthdays or anniversaries. The costs are affordable unlike other places and are never disappointing.
Location – Sector 17-18, near Green Park Vatika, Gurgaon.
5. Awara adventure farm
Well if you're regretting missing any of your trekking plans then here it is! A golden opportunity to relive it.
This place offers you many sports like mountain climbing, Tarzan swing, Burma bridge, parallel rope, crawling over commando net, etc. The most attractive thing about this spot is the rain dance with DJ.
Location – Aravali Retreat, 12 km beyond Sohna.
Also Read: The Adventures Of Ice Climbing