This article will explore the world of urban adventure and city exploration. Adventure doesn't always have to take place in the great outdoors – there is plenty of excitement, challenge, and discovery to be found in the concrete jungles of our cities.
From parkour and rooftop exploring to urban hiking and bike tours, we will dive into the many ways in which people are pushing their limits and exploring the hidden corners of our cities.
When we think of adventure, our minds often turn to images of remote wilderness areas, soaring mountains, or vast stretches of open water. However, adventure can be found in many different places, including the heart of our cities.
Urban adventure and city exploration offers a unique and exciting way to experience the world around us, whether we are looking for a physical challenge, a chance to explore new cultures and communities, or simply a new way to see our familiar surroundings.
If you're interested in trying out urban adventure for yourself, there are many resources available to help you plan your experience. Online travel guides, adventure blogs, and local tourism websites are great sources of information on the best urban adventure activities and destinations in your area.
Many cities also have local adventure companies and tour operators that offer guided urban adventure experiences, from street art tours and architecture walks to urban kayaking and bike rides. These tours can be a great way to learn more about your city and meet other adventure enthusiasts while staying safe and supported by experienced guides.
Parkour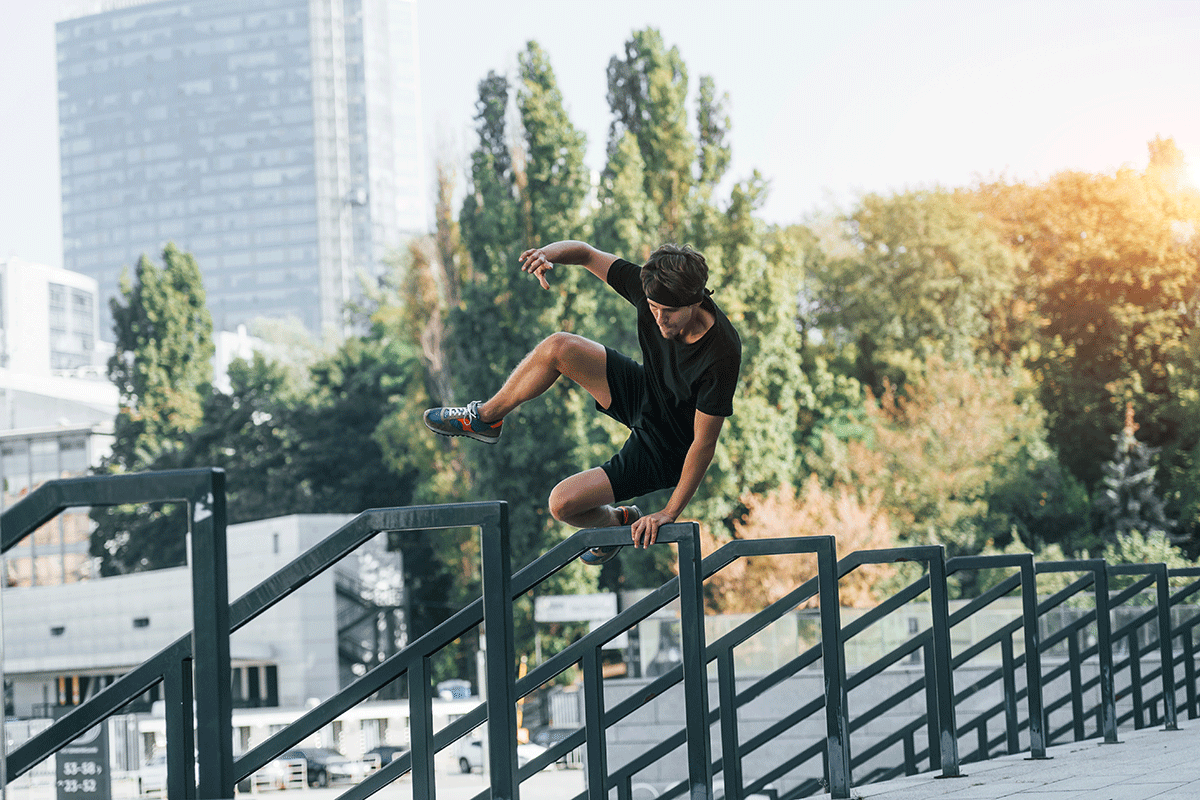 One of the most popular urban adventure sports is parkour, also known as freerunning. This discipline involves moving through the city landscape in a fluid and acrobatic way, using walls, railings, and other urban features as obstacles to be overcome. Parkour requires a high level of physical fitness, agility, and balance, as well as a deep understanding of one's environment.
Rooftop Exploring
For those seeking a thrill and a unique perspective on the city, rooftop exploring can be an exhilarating adventure. Climbing to the top of a building and surveying the urban landscape from high above can be a breathtaking experience, but it's important to do so safely and responsibly.
Urban Hiking
Urban hiking is a great way to explore a city on foot, combining exercise with discovery and adventure. Whether you're wandering through historic neighborhoods, exploring local parks and green spaces, or seeking out hidden urban gems, urban hiking allows you to experience a city in a more intimate and immersive way.
Bike Tours
Biking is a great way to get around a city, and many cities now offer bike tours that take visitors on a guided journey through different neighborhoods and landmarks. These tours can range from leisurely rides through scenic areas to more intense rides that challenge riders with steep hills and fast descents.
Kayaking and Paddleboarding
Even in the heart of a bustling city, it's possible to find calm waters and enjoy some time on the water. Kayaking and paddleboarding are both great ways to explore a city from a different perspective, whether you're gliding through quiet canals or paddling along a river or lake.
Food Tours
One of the best things about urban adventure is the chance to explore different cultures and cuisines. Food tours allow visitors to sample the best of a city's cuisine, from street food to high-end restaurants, while also learning about the history and culture of different neighborhoods and communities.
Art and Architecture
Many cities are home to stunning architecture and public art, and exploring these can be a great adventure in and of itself. From iconic buildings to public sculptures and murals, the city is a canvas for creativity and expression, and a great way to experience a city's artistic and cultural heritage.
Community Engagement
Urban adventure and city exploration can also be a chance to engage with local communities and learn about different perspectives and experiences. From volunteering with local organizations to attending cultural events and festivals, there are many ways to connect with the people and places that make a city unique.
Challenges and Risks
Of course, urban adventure also comes with its own set of challenges and risks. From navigating unfamiliar neighborhoods to dealing with traffic and other urban hazards, it's important to take precautions and be aware of your surroundings at all times.
Conclusion
In conclusion, urban adventure and city exploration offer a unique and exciting way to experience the world around us. From parkour and rooftop exploring to urban hiking, biking, kayaking, and food tours, there are many ways to challenge ourselves and discover the hidden corners of our cities.
At the same time, it's important to approach the urban adventure with respect and responsibility, taking precautions to stay safe and engaging with local communities in a positive and respectful way. Whether you're a seasoned adventurer or just looking for a new way to explore your city, urban adventure offers a wealth of opportunities for discovery, connection, and growth.
So why not step out of your comfort zone and embark on your own urban adventure today? Who knows what kind of excitement and discovery you may find just around the corner?