Hiking is an activity that is usually considered of moderate difficulty.
It involves walking for long distances generally on trails or paths. However, people often confuse two terms, sometimes indistinctly.
In this article, we have listed the top 10 most dangerous hike trials in India.
The only difference between the two of them is the duration of a specific activity. On the one hand, where hiking is associated with shorter programs trekking is often used to describe longer programs. Hiking is a great way to immerse in the culture and history of a country or area. In case you are indulging in longer programs of a week or more, it will take you to experience local food communities and taste unique local platters. 
Hiking is slightly different from trekking where you get guides and a lot of beforehand information about the checkpoints. Whereas hiking is mostly done on your own. But with thrill comes the risk. You must be brave enough to face a mountain lion, get bitten by strange insects, or slip into a fissure. 
So let us start our journey. 
1. Hemis National Park 
Hemis National Park is one of the highest national parks in the world and has one of the toughest trails to offer. With the temperature levels below zero, it becomes almost difficult to resist chilly winds that hit your face like a bullet. The trail has breathtaking landscapes that are pleasing to the mind and soul. 
But there is a twist. Amidst all these difficulties one little problem is the number of snow leopards found in this region. The number is quite high and will leave you in a dilemma to skip this trial. 
2. Nanda Devi Base Camp
Nanda Devi trail is one of the most beautiful hiking experiences you will ever have. It is because of how nicely this place is seated in between the mountains. 
The trail offers marvelous views and amazing flora and fauna. In case you are interested in hiking this mountain let me tell you it is not child play, it has extremely arduous trails. 
3. Rupin Pass Trail
Rupin Pass is one of the most stunning natural beauties with extraordinary sceneries. The most exceptional part of this hike is the swaying dilapidated wooden bridges suspended in thin air, chilly glaciers, and strange rock formations. 
One strange thing you will notice here is the eerie trials dug out of rocks and stones and no one knows who dug them for what purpose. 
4. Kinner Kailash Circuit Hike 
Kinner Kailash is one of the most pristine, calm, high-altitude hikes. It's calm enough to make you feel almost dead-silent calm? This is something you will experience during this trek.
The stunning beauty of the Himalayas will surround you from all sides at every step. But please be cautious if you fall there would be no one to rescue you.
5. Lamkhaga Pass 
To undertake this hike you need to get some special permission from the side of the Indian government. The primary reason to put this restriction is the safety of the hikers. The hike has the utmost difficulty level. It is not suggested to take this hike if a huge number of risk factors are involved.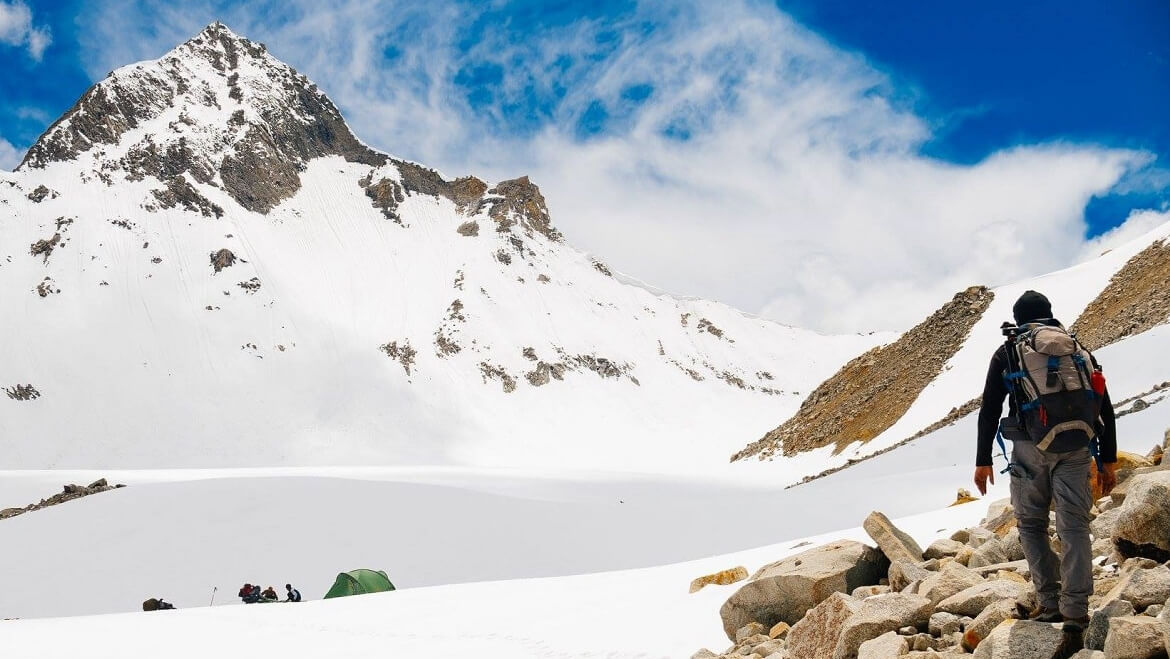 6. Kailash Manasarovar
Kailash Mansarovar hike shares only a little part in India. This trek Majorly belongs to China. At an altitude of 5487 meters, yogis look for tranquillity and serenity. It is not easy to hike in bone-chilling temperature conditions. You may suffer from nausea, blurred vision, and altitude sickness due to a lack of oxygen. 
7. Green lake Trail on Everest
Everest is one of the most unexplored regions in India. The Green Lake trail is a hike with a lot of challenges and the fact that it is undiscovered a lot of risk factors would be unknown which can be overwhelming. 
8. Stok Kangri Hike 
The Stok Kangri is one of the most undoubtedly unpredictable hikes. With super steep inclination, almost half frozen glaciers, arid dry terrains, and with lack of oxygen can be difficult even for the fittest person to exist. The trail offers the highest hiking and trekking summit with an elevation of 6100 meters. 
9. Auden's Col Pass
Listed as one of the most dangerous hikes in the country, Auden's Col is full of challenges, surprises, and shocks. This hike is popular for its unknown fissures. If you fall in one of them you could stay frozen forever. Isn't it scary? 
10. Chadar Lake Trek 
Chadar lake trek will take you through a valley over the frozen Zanskar River. This river is the only link between the outside world and the Zanskar village. But what is so dangerous about this trek? The thin ice, one wrong step, and tata bye-bye to the world. 
So now you decide to trek any of the above passes, I hope you'll have at least an idea where you are stepping.