Ice climbing was once considered an afterthought to rock climbing and other mountaineering pursuits. Climbers had to navigate the ice whenever they came to an icy portion of the mountain in order to continue climbing. Ice climbing was established as a result of the thrill and challenge of climbing on ice. Climbing over ice is now considered an experience in and of itself, rather than a stumbling block on the road to the summit.
Ice climbing is considered an extreme activity because of the conditions in which it is usually done. Ice climbers may be exposed to adverse weather, avalanches, and crevasses in addition to being outside in sub-zero temperatures for extended periods of time. However, for those who chose this sport, such dangers simply add to the exhilaration of ice climbing.
For the most part, getting up and personal with ice entails consuming a cold beverage. The worst-case scenario is that your brain freezes. Adventurers, on the other hand, will spend hours, if not days, with their faces flat against the side of a glacier or frozen waterfall, scaling its slick, rough, and hazardous surface with picks and ropes. Is it possible that I'll fall into an icy crevasse? Is it possible that I'll suffer frostbite? What makes ice climbers so passionate about their sport is the fear of an avalanche appearing out of nowhere. 
Equipments Are Essential
Ice climbing necessitates different gear than rock climbing. Ice climbing gear has evolved from traditional climbing tools to provide greater flexibility and safety on ice and snow. Ice tools are the most critical and expensive pieces of ice climbing equipment.
A traditional ice tool comes with a leash that you tie around your hand to keep the tool in your hand. It's quite easy to drop a tool, and if it's laying 20 feet (6 metres) below you on the ground, it's useless.
The leashless ice tool, on the other hand, is more comfortable, and switching out tools is easier when you're not linked to your gear. Because of their versatility, leashless tools are becoming more popular among expert climbers.
Crampons are required for gaining traction on snow and ice by climbers. Crampons are sharp metal spikes that protrude from the bottom of your boots and dig into the ice while climbing, similar to cleats.
Ice climbers use ice screws and ropes to keep oneself from falling. Climbers refer to this as protection. You set ice screws in strategic spots and clip in a rope as you advance through a climb, which will save your life if you fall.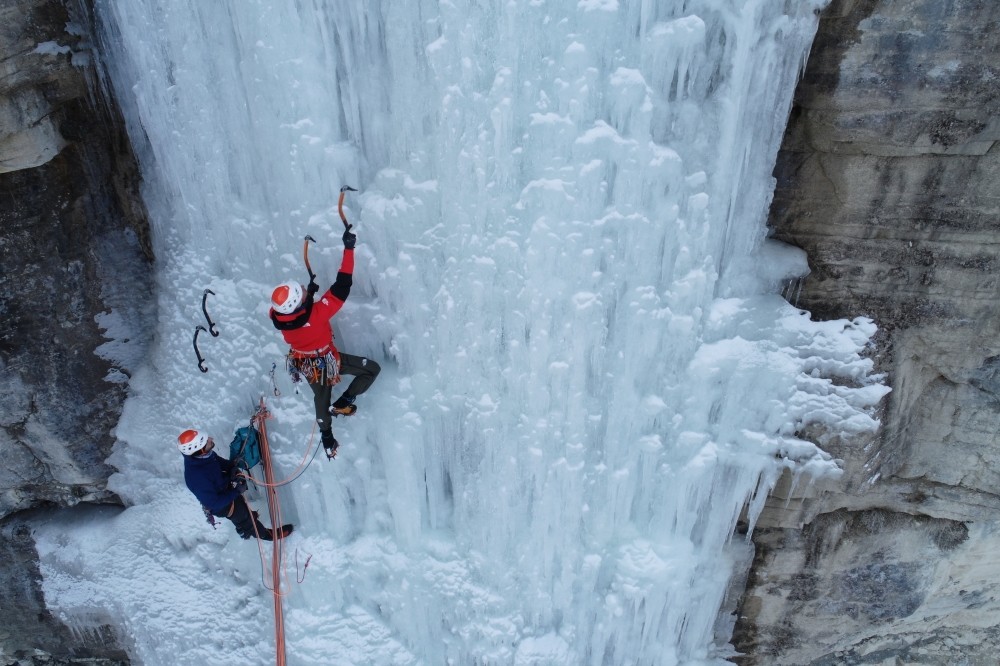 What Is The Best Time For Ice Climbing
As you might expect, ice climbing conditions are better during the winter months. Ice climbing, contrary to popular opinion, can be done all year. That's correct! Even during the summer, you can ice climb. In all four seasons, glaciers provide a great location for ice climbing. Climbing missions to high altitude peaks frequently include both ice and mixed climbing.
Many ice climbers, on the other hand, engage in rock climbing during the off-season. This is a terrific method to keep in shape during the summer because the strength and skills you get from rock climbing will also benefit you on the ice.
Techniques To Remember
Ice climbing is perilous in a variety of ways. First and foremost, you must protect your body from the elements by dressing in layers and wearing dry gloves. Avalanches can strike at any time.
Ice climbers, like rock climbers, utilise belays to keep themselves safe while climbing. In fixed belaying, the climber wears a harness with a rope connected, which prevents the climber from falling too far if he or she slips.
When installing ice screws, make sure they're firmly embedded in the ice. Remove any soft ice or snow, and use the pick on your ice tool to make a hole. Secure the screw at a 10-degree angle upwards from the projected pull direction. In the event of a fall, the pull is the direction in which the rope will pull. This means the screw will face somewhat downward if you're climbing on a steep or vertical surface.
Keep in mind that you'll still have to descend once you've reached the summit. Plan your climb so that you have adequate time to descend safely.
Climbers should always have a first-aid kit with them when they go out. A working knowledge of first aid, including how to apply a tourniquet, splint, or treat frostbite, is recommended by the experts. Gadgets are also a climber's best buddy. In the middle of nowhere, a handheld GPS device can assist you in finding your way. Carrying an avalanche beacon can save your life by assisting rescuers in finding you and your buddies if you are caught in a dangerous circumstance.
Also Read:  Top 10 Adventures From Around The World!