Adventure sports and extreme sports are two terms that are often used interchangeably. However, there is a subtle difference between the two. Adventure sports are generally considered to be less risky than extreme sports. They are also more accessible to people of all skill levels. Extreme sports, on the other hand, are more dangerous and require a higher level of skill and experience.
In recent years, adventure sports have become increasingly popular. This is likely due to a number of factors, including the growing desire for people to experience new and exciting things, the availability of more affordable and accessible adventure sports gear, and the increasing popularity of social media, which has made it easier for people to share their adventure experiences with others.
Whatever your reason for being interested in adventure sports, it is important to be aware of the risks involved and to take steps to stay safe. This guide will provide you with an overview of different types of adventure sports, how to choose the right adventure sport for you, how to prepare for an adventure sport, and safety tips for adventure sports.
How to choose the right adventure sport for you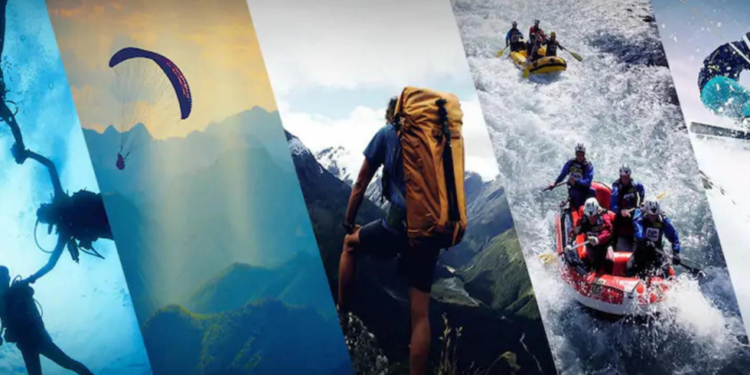 When choosing an adventure sport, it is important to consider your interests and fitness level. If you are new to adventure sports, it is a good idea to start with a basic level of difficulty and work your way up. You should also do your research to learn about the different types of adventure sports available and talk to people who have experience with different adventure sports to get their recommendations.
1. Assess Your Interests and Fitness Level:
Adventure sports cover a wide spectrum of activities, each with its unique appeal and physical demands. Begin by considering your personal interests. Are you drawn to the thrill of freefalling from the sky, the serenity of exploring underwater ecosystems, or the challenge of scaling towering cliffs? Identifying your preferences is the first step in narrowing down your options.
Next, evaluate your fitness level honestly. Adventure sports can be physically demanding, and it's crucial to select an activity that matches your current capabilities. If you're a seasoned athlete, you might be comfortable with more physically challenging options. However, if you're just starting, it's advisable to choose activities with lower entry barriers and progressively build your fitness over time.
2. Start with a Basic Level of Difficulty:
For those new to adventure sports, it's prudent to begin with activities that have a lower level of difficulty. These introductory experiences provide a safe and enjoyable way to familiarize yourself with the fundamentals of the sport. As you gain confidence and skills, you can gradually move on to more advanced challenges.
3. Research and Seek Recommendations:
Adventure sports come in a multitude of forms, and the choices can be overwhelming. Conduct thorough research to understand the nuances of each activity. Explore online resources, watch videos, and read about others' experiences to get a sense of what each sport entails.
Additionally, tap into the knowledge of experienced adventurers. Seek recommendations and advice from individuals who have firsthand experience in the adventure sports you're considering. They can provide valuable insights, tips, and even suggestions on where to begin.
4. Consider the Cost:
Adventure sports can vary significantly in terms of cost. Some, like hiking and trekking, have relatively low entry costs, requiring only basic gear. On the other hand, activities such as skydiving or scuba diving can be more expensive due to equipment, training, and associated fees. It's essential to factor in the financial aspect when making your decision and ensure it aligns with your budget.
5. Availability and Location:
Certain adventure sports are location-dependent and may only be accessible in specific regions or during particular seasons. Before committing to an adventure sport, check its availability in your area or the destinations you plan to visit. Ensure that the timing aligns with your travel plans and expectations.
6. Safety Precautions:
Adventure sports inherently involve an element of risk, and safety should always be a top priority. Choose an activity that matches your skill level, and be aware of potential hazards associated with it. Consider investing in proper training and equipment to mitigate risks.
How to prepare for an adventure sport
Once you have chosen an adventure sport, it is important to prepare for it properly. This includes getting the proper training and instruction, getting the right gear, and being aware of the weather conditions and potential hazards.
Here are some specific tips for preparing for an adventure sport:
Get the proper training and instruction: Many adventure sports require specialized training and instruction. Be sure to take a class or get one-on-one instruction from a qualified professional before attempting any new adventure sport.
Get the right gear: Adventure sports often require specialized gear. Be sure to purchase or rent the appropriate gear for your chosen activity.
Be aware of the weather conditions and potential hazards: It is important to be aware of the weather conditions and potential hazards of the activity before you participate. Be sure to check the weather forecast and research the potential hazards of the activity in advance.
Safety tips for adventure sports
Adventure sports can be dangerous, but there are steps you can take to stay safe. Here are some general safety tips for adventure sports:
1. Start with the Basics: As a sports lover, you're likely to be enthusiastic about trying new activities. However, it's essential to start with a basic level of difficulty and gradually work your way up. Begin with activities that match your current skill level and experience, then progress to more challenging endeavors. This gradual approach allows you to build the necessary skills and confidence.
2. Be Prepared for the Unexpected: Adventure sports are inherently unpredictable, often taking place in the great outdoors. Be prepared for unexpected situations, such as sudden changes in weather conditions or equipment malfunctions. Carry essential items like a first-aid kit, emergency communication devices, and extra supplies appropriate for your chosen sport. Having a backup plan in case of unforeseen circumstances can be a lifesaver.
3. Know Your Limits: Sports lovers tend to have a competitive spirit and a desire to push their boundaries. While pushing your limits can lead to personal growth, it's crucial to be aware of your physical and mental boundaries. Listen to your body; if you're feeling tired, fatigued, or in discomfort, don't hesitate to take a break or reevaluate your activity. Ignoring these signs can lead to accidents and injuries.
4. Share the Adventure: Adventure sports are often more enjoyable when shared with others. Whenever possible, participate with a friend or a group. Having companions not only enhances the experience but also provides a safety net in case of emergencies. Share information about your planned route, activity duration, and emergency contacts with someone who isn't part of the adventure.
5. Learn from Experts: As a sports enthusiast, you understand the value of proper training and guidance. Seek instruction from experienced professionals or certified instructors when venturing into a new adventure sport. They can teach you essential techniques, safety protocols, and best practices, ensuring that you have the knowledge and skills needed for a safe experience.
6. Regularly Maintain Equipment: Equipment is often at the heart of adventure sports. Regularly inspect and maintain your gear to ensure it's in optimal condition. Whether it's checking the ropes and harnesses for rock climbing or ensuring your mountain bike's brakes are working correctly, preventive maintenance is key to minimizing risks associated with equipment failure.
7. Stay Informed: Keep yourself updated on current safety guidelines, regulations, and recommendations for your chosen adventure sport. Stay informed about local conditions, terrain, and potential hazards specific to the area where you plan to engage in your activity. Awareness and knowledge are powerful tools for risk mitigation.
8. Respect Nature and Local Communities: As a sports lover, you have a deep appreciation for the environment. Practice responsible adventure sports by respecting natural landscapes, wildlife, and local communities. Follow Leave No Trace principles, adhere to any environmental protection regulations, and engage in activities that minimize your ecological impact.
9. Have a Communication Plan: Before embarking on any adventure, establish a clear communication plan. Ensure that you have reliable means of communication, such as a fully charged mobile phone or a satellite phone if you're in remote areas. Share your itinerary and expected return time with a trusted person who can raise the alarm if you don't check in as planned.
10. Trust Your Instincts: "- Finally, trust your instincts. If something doesn't feel right or if conditions become too hazardous, it's perfectly acceptable to call off an adventure or make necessary adjustments. Your safety should always take precedence over the desire for excitement." Adventure sports can provide some of the most thrilling and rewarding experiences for sports enthusiasts. By following these safety tips, you can continue to explore and enjoy these activities while minimizing risks and ensuring your well-being. Remember that preparation, education, and responsible decision-making are the cornerstones of a safe and enjoyable adventure sports journey.
Conclusion
Adventure sports can be a great way to experience new and exciting things, get exercise, and challenge yourself. However, it is important to be aware of the risks involved and to take steps to stay safe. By following the tips in this guide, you can minimize the risks and have a safe and enjoyable adventure. Remember to always be prepared, stay aware of your surroundings, and have a backup plan in place. With the right mindset and preparation, you can have a safe and exhilarating experience while engaging in extreme sports.