Las Vegas, the city of lights is known for its gambling, entertainment, fine dining, shopping, casino and nightlife. It is the 25th most populous city in the state of Nevada with desert surrounding it from all sides. As a whole Las Vegas Serves as a leading financial commercial and cultural centre of Nevada. 
On the one hand, where "Sin City" attracts a large number of tourists every year due to its numerous adult attractions, there's a surprise for you. Las Vegas accounts for the number of scariest thrill rides in the world. Most people are unaware of this fact. 
With lights pouring all around the town, and in the eye-catching environment I'm sure you must have missed this amazing attraction of the city.
Let's have a quick sneak peek into 'Sin City' in this article and explore the unseen part of Las Vegas.
1. X Scream
Ever wondered how you are going to feel while feeling down from a 100-storey building? Sounds scary and dreadful right? I mean I know you might be wondering what kind of question this is. But let me tell you if you want to feel how death feels you can. 
X Scream is a mid-way roller-coaster ride. Yes you heard it right, it is a midway ride and Of course, it can't be a complete roller-coaster ride. Otherwise, you'll not be able to survive. Why? It is because this beauty is situated at a height of 263 metres above the ground. Imagine being on edge of a 100-storey building. 
Yes, you are at the top of the stratosphere. A narrow track peeps out the edge of this building which is the foundation for the coaster. The roller coaster comes to the edge of this track where you can feel your heart dropping out on the floor. And yes one life isn't enough to feel that so capsule reverse for the other two goes!
2. Insanity
In case you aren't satisfied with the above, here comes another twist, Insanity. 
As the name goes you need to have an insanely brave personality to be seated on this ride. Spider-like claws extend 19-metres over the tower's edge with twists and spin to shake your body and soul. I mean probably you can be brave enough to enjoy this but certainly with a lot of thoughts crossing your mind. I can bet that. 
And, if you can open your eyes you can have a beautiful experience of the downtown strip. The Vegas Stips look extremely tiny here yet pleasing to the eyes.
3. Big Shot
What does it feel like dropping straight to the ground? Let's find out. Big Shot comes with a little bit of variation though than other rides. It goes straight up in the sky and shoots. This ride propels up in the sky at 75 kilometres per hour. Quite fast isn't it? The ride is too situated at the top of a 100-storey building in the middle of the stratosphere 
At the top of the Stratosphere observation tower. Big Shot is attached to the thin needle-like structure. It's an aerial tower and mast. This ride is capable of breathing.
4. El Loco
The word El Loco comes from a Spanish word which means crazy. As the name suggests it's a 90-degree vertical or beyond vertical drop. Prepare to get wet on this popular ride.
The El Loco at Circus Circus' Adventuredome in Las Vegas, has taken the type's name and applied it to the coaster itself.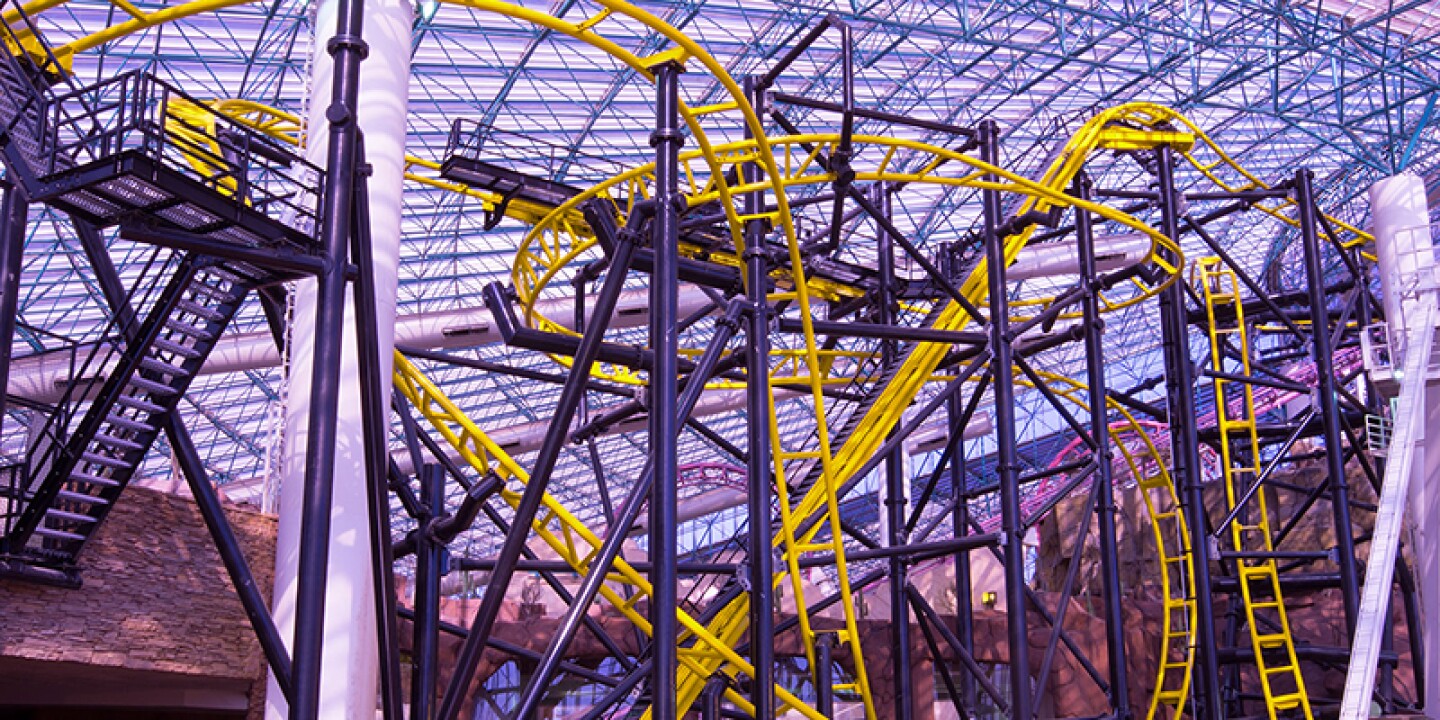 Featuring a ninety-degree drop, this is one of the two El Locos in the United States. To your surprise, this ride is built indoors. After the death-defying drop, the log ride continues on a scenic journey right through the casino. It is considered a "hypercoaster"
5. Voodoo Zipline
In case you are looking for a zipline to beat all the other Zip Line here is yours. The Rio resort and Casino. The resort's two magnificent hotel towers are joined with this ride. The Zip Voodoo zipline.
A motor line connects the two buildings and is situated 244 metres above the ground. The ride connects the high MasqueradeTower to Ipanema Tower.
6. Big Apple Coaster
This is the first coaster to feature a 180-degree "heartline" twist dive and manoeuvre. The ride has a 203 ft drop, providing more than 1.4 million riders with heart-stopping action and excitement each year. However, the big coaster has a timed ticket entry.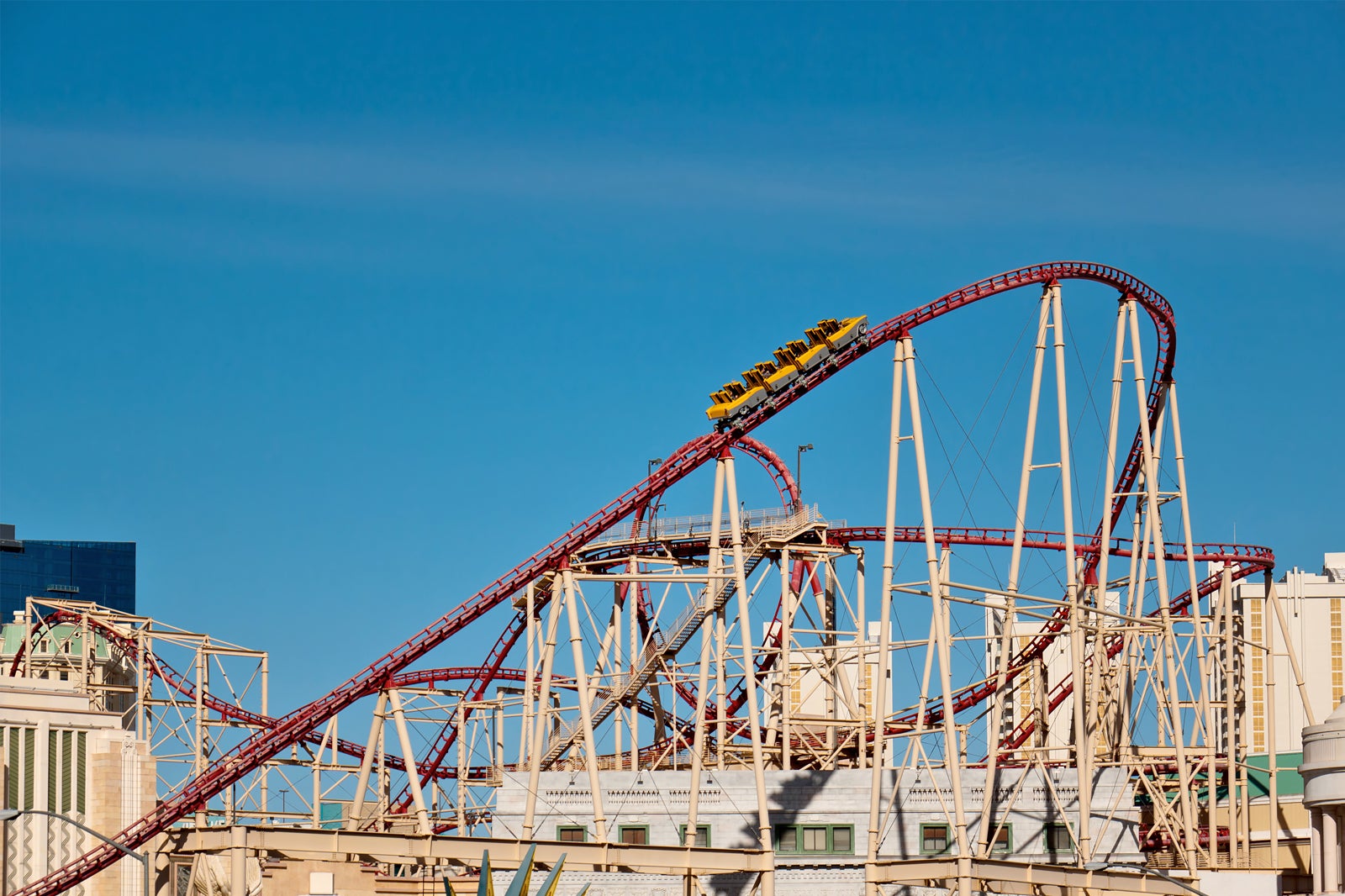 Hours of operation are subject to weather conditions and other circumstances which may suspend service.
So don't forget to hold your heart the next time you visit Vegas. This indifferent city has exciting things in its pocket. It's unique and you'll love it.