This article is a guide to the best tools and equipment for adventure camping. From sleeping bags to camping stoves, we'll cover everything you need to know to make your camping trip comfortable and enjoyable.
For many outdoor enthusiasts, there's nothing better than spending a night under the stars. But to truly enjoy the great outdoors, you need the right gear. Whether you're a seasoned camper or a first-timer, having the right equipment can make all the difference.
In this article, we'll explore some of the best tools and equipment for adventure camping, including tents, sleeping bags, backpacks, camping stoves, cookware, water filtration systems, headlamps, multi-tools, navigation tools, first aid kits, sun protection, and insect repellent. So let's get started!
Tents
A good tent is one of the most important pieces of camping equipment. When choosing a tent, consider the number of people who will be sleeping in it, the climate and terrain of your destination, and how easy it is to set up and pack away. Some popular brands include MSR, REI, Big Agnes, and NEMO.
Sleeping Bags
A comfortable sleeping bag is essential for a good night's sleep in the great outdoors. Look for a sleeping bag that is appropriate for the weather conditions you'll be camping in. Down-filled sleeping bags are popular for their warmth and compressibility, but synthetic options are also available. Some popular brands include Marmot, The North Face, and Therm-a-Rest.
Sleeping Pads
Sleeping pads provide insulation and cushioning between your body and the ground. They come in a variety of styles, from foam to air-filled, and can be rolled up or inflated for easy transport. Some popular brands include Therm-a-Rest, NEMO, and Exped.
Backpacks
A good backpack is essential for carrying all your camping gear. Look for a pack that is comfortable to wear and has enough storage space for all your equipment. Brands like Osprey, Deuter, Gregory, and Kelty are popular choices among outdoor enthusiasts.
Camping Stoves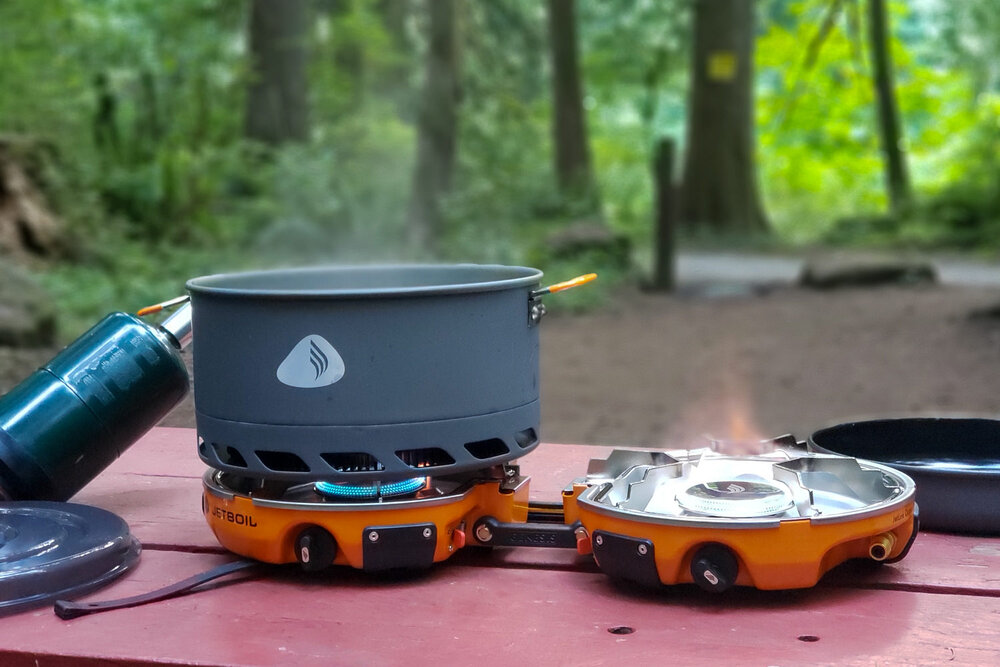 A portable camping stove allows you to cook hot meals and drinks while in the great outdoors. Look for a stove that is lightweight, durable, and easy to use. Brands like MSR, Jetboil, Coleman, and Snow Peak are popular choices.
Cookware
When choosing cookware for camping, look for lightweight and durable options. Non-stick pans and pots are popular for their easy clean-up, while titanium options are known for their strength and low weight. Some popular brands include GSI Outdoors, MSR, and Snow Peak.
Water Filtration
Clean water is essential for any camping trip. A portable water filtration system can help remove harmful bacteria and viruses from natural water sources. Look for a filter that is lightweight, easy to use, and can filter enough water for your needs. Popular brands include Sawyer, Katadyn, and MSR.
Headlamps
A headlamp is essential for any camping trip. Look for a headlamp that is lightweight, durable, and has a long battery life. Brands like Black Diamond, Petzl, Princeton Tec, and Fenix are popular choices.
Multi-Tools
A multi-tool is a handy gadget that combines several tools in one, such as a knife, scissors, and pliers. Look for a multi-tool that is lightweight, durable, and has all the tools you need for your camping trip. Popular brands include Leatherman, Gerber, and Victorinox.
Navigation
A map and compass are essential tools for any camping trip, especially if you're venturing off the beaten path. Consider also bringing a GPS device or smartphone app with detailed maps and navigational features to help you stay on course. Popular brands include Garmin, Suunto, and Ordnance Survey.
First Aid Kits
Accidents can happen in the great outdoors, so it's important to have a well-stocked first aid kit on hand. Look for a kit that includes essentials like bandages, antiseptic wipes, pain relievers, and medical tape. Brands like Adventure Medical Kits and Surviveware offer a range of first aid kits for different needs and group sizes.
Sun Protection
Protecting your skin from the sun's harmful UV rays is essential when spending time outdoors. Look for a sunscreen with a high SPF rating and water resistance, and consider also wearing a hat, sunglasses, and lightweight, breathable clothing. Some popular sunscreen brands include Coppertone, Neutrogena, and Banana Boat.
Insect Repellent
Insects can be a nuisance on camping trips, and some can even carry harmful diseases like Lyme disease or West Nile virus. Look for a repellent that is effective against the insects you're likely to encounter, and that is safe for use on your skin or clothing. Popular insect repellent brands include OFF!, Repel, and Sawyer.
Conclusion
When it comes to adventure camping, having the right tools and equipment can make all the difference. From a good tent to a reliable water filtration system, there are many options to consider when outfitting yourself for a camping trip.
Take the time to research and choose the gear that is best for your needs, and always prioritize quality and durability. With the right equipment, you'll be able to enjoy all the beauty and wonder of the great outdoors without sacrificing comfort or safety. Happy camping!