Vacation means happy times, and peace when you spend your time close to nature and family. Have you ever thought about traveling to some serene places, hell yes! There are plentiful unexplored peaceful places in India, which have been waiting for you to capture them in your happy moments.
 Peace is always beautiful and when you pick the correct destination then it becomes more beautiful.
Take time to relax because life is in a big rush! There are times when you just want to unwind and get away from your frantic daily routine.
Take time to relax because life is in a big rush!
1. Tosh Paravati Valley, HP
Those who enjoy traveling are always looking for a location that not only inspires their inner adventures but also uplifts the soul through spiritual tranquility, because only by cleansing one's soul can one uplift others. Tosh Valley is a perfect place for all nature lovers and hence it is said to be amongst the most peaceful places in India.
Hill stations are frequently the best option for those looking for both adventure and peace. Tosh, for example, is located in the Parvati Valley and is one of the unusual places that many people are unaware of. Nature's incredible craftsmanship can be seen throughout the scene. Because of its beauty, this location will enchant everyone, from an individual to a group.
2. Pangong Tsu, Ladakh
A pure region in Ladakh distinguished by subtle to high peaks all around, crystal blue waters, and the vast expanse draws the eye so much that it feels as if something magical is taking place right in front of our eyes. Panging Tsu is one of the most peaceful places in India. For a tranquil holiday, you can check out 9 gorgeous camping places in Leh-Ladakh.
Pangong Lake, also known as Pangong Tso, is located 14,270 feet above sea level. Surprisingly, the lake has a length of 12 kilometers and is located between India and China. Rather, 60% of the territory is in a neighboring country, which delights every visitor. There is no reason to pass up this once-in-a-lifetime opportunity. And if you want to do it again, it's a blessing!
3. Gokarna Kuddle Beach, Karnataka
Gokarna, a Karnataka coastal town with a hill station-like atmosphere, is well worth a visit. Because Gokarna has had such a profound impact on Hinduism, the IHPL website contains a plethora of Gokarna tour packages. Since the time of the Mahabharata and Ramayana, this beautiful beach has been one of Hinduism's most important pilgrimage sites.
4. Cheerapunjee
The picturesque Cherrapunjee in Meghalaya's heart was once dubbed the "wettest location on Earth" by the Guinness Book of World Records. This breathtaking area, perched on a ridge, features vast valleys, foaming rivers, enigmatic clouds, and rainfall measured in feet. A vacation in Cherrapunjee will lead you to the surreal beauty and immerse you in the stunning setting and relaxed atmosphere.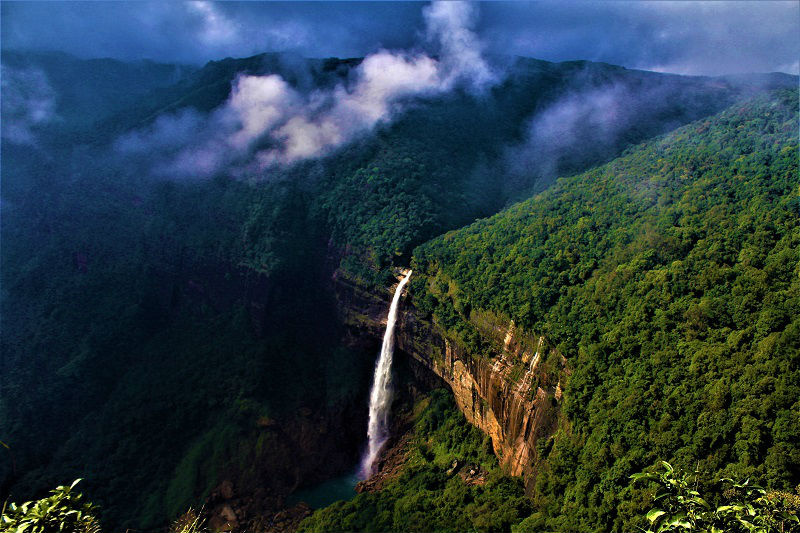 5. Orchha Fort, Madhya Pradesh
If you enjoy learning about history and being amazed by the massive forts, palaces, and structures that were built in prehistoric times without the use of modern scientific tools, then Orchha is the place for you. Visit the forts, which are surrounded by battlement walls, as well as the famous Raja Mahal and Jahangir Mahal, which both display Mughal architecture grandeur and contain Rajput temples.
Enjoy the breathtaking light and sound show at the Jahangir Mahal, which depicts Orchha's history. There are numerous chhatris, or cenotaphs, that surround the fort along the Betwa River. Orchha Fort is an excellent place to unwind and take in the splendor of historic structures as well as the beauty of the Betwa River and its surrounding coastlines.
Take your family and friends on an unforgettable journey. Orchha Fort is a perfect place for all nature lovers and hence it is said to be amongst the most peaceful places in India.
6. Alleppey
Alleppey is one of India's oldest towns, built according to a meticulous plan. Backwater canals, beaches, paddy fields, and lagoons are all well-known features of the region. Alleppey's beauty is defined primarily by its natural assets, which attract a large number of visitors each year.
Alleppey is well-known for its iconic houseboat cruises, which make it a popular tourist destination. It is one of the best peaceful places in India to visit because of its tranquil beauty and massive mountains. Alleppey tourism experiences a surge in visitors due to the traditional boat races that take place in August and September. Alleppey is a well-known tourist destination in India due to its numerous fascinating attractions